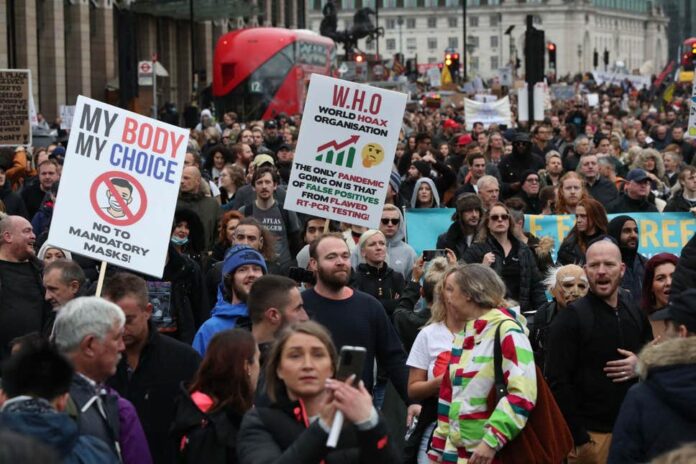 LONDON 24 October, 2020-Hundreds of anti-lockdown campaigners are marching towards Parliament after bringing Oxford Street to a standstill.
The demonstrators, carrying banners saying "Covid1984" and "Flu d'etat", chanted "Take your freedom back, take off your masks" as they marched through the West End.
Officers were out in force and the Metropolitan Police later said 10 people have been arrested so far at the Stop the New Normal protest.
"This protest is no longer exempt from the regulations and we are asking demonstrators to leave," the Met said on Twitter.
Officers were deployed outside Buckingham Palace as large crowds of protesters gathered on the steps of the Queen Victoria memorial opposite the palace gates with banners and placards, calling for "freedom".
Piers Corbyn, brother of former Labour Party leader Jeremy Corbyn, also attended the protest.
Once at Parliament Square, the protesters likely had company in the form of a pantomime cow and a group of chlorinated chickens, who gathered on Saturday to protest against a proposed trade deal between Britain and the US.
Demonstrators also included a Donald Trump impersonator holding a syringe labelled "hormones" as they called for opposition to the lowering of UK food import standards.